North Georgia Cooking Classes
Equipped with top-tier Viking Range® appliances, our Culinary Studio is a beautiful 1,600 sq. ft. teaching kitchen located within the Chateau Elan Winery. Our skilled culinary team delights in sharing their passion for cooking in public classes and private culinary events with guests.
Close
Cooking Classes
The Day of Your Class | Please plan to arrive 15 minutes early. Wear comfortable clothes and shoes (preferably closed-toe). Chef reserves the right to substitute menu items/ingredients if necessary. Classes are subject to re-scheduling at Chef's discretion.
Registration | You must be 21 years or older to participate. Classes are approximately 2 to 3 hours long. $135 per person (plus taxes). Price is for cooking class only. To inquire about adding an overnight stay, please call Reservations.
Cancellation Policy & Liability | Prepayment by credit card is required to reserve a class space. Students who cancel their reservations 72 hours prior to the scheduled class will receive a full refund. No-shows and cancellations made less than 72 hours before the class will not receive a refund.
When booking a cooking class at the Château Élan Culinary Studio, participants must assume and accept that they will be participating in cooking activities where there is a natural element of risk of injury with kitchen appliances, equipment, knives, allergic reactions, and other participants in the class. When you confirm your cooking class you acknowledge this level of risk to yourself while participating in the activities at the Chateau Élan Culinary Studio.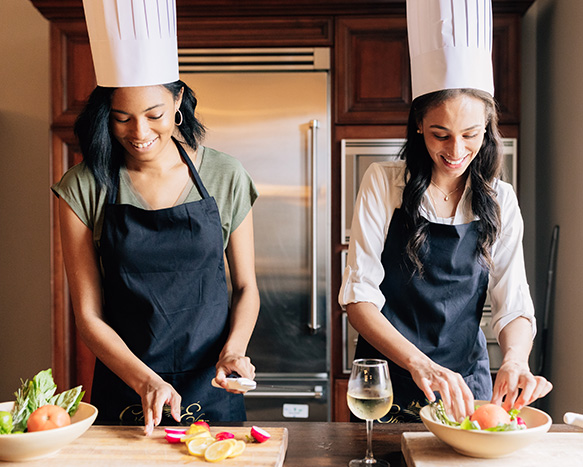 Cooking Classes
Cooking classes are tailored to an introductory skill level, however, even experienced foodies can enjoy the interaction with our professional chef in our Culinary Studio kitchen. Each class includes professional cooking instruction of a three-course meal, a chef's hat, a full serving of each dish, wine pairings chosen by our sommelier, and recipe booklet.
Read More
Monthly Menus
Winter Warmers
January 2021
Join us for a tour of our favorite recipes that are sure to brighten up your winter. From homemade gnocchi to chicken & dumplings, this 4-week series will teach you how to master classic winter dishes.
February's Fresh Flavors
February 2021
Fine-tune your searing skills during this 4-week series showcasing some of our favorite, made-for-romance dishes, including Seared Scallops with Bacon Jam, Seared Lamb Chops, Lobster Ravioli with Creamy Alfredo, and Seared Filet with Béarnaise.
Savor A Spring Menu
March 2021
We're setting our sights on spring with a 4-week series featuring farm-fresh spring produce paired with mussels, seared sea scallops, and made-from-scratch tagliatelle pasta.
Close
Epicurean Escape Package
Package is only available for booking on dates that a Culinary Class is scheduled.
Gratuity for Culinary Studio Chef is included.
Tax is excluded from package pricing.
Epicurean Escape Package
Savor the flavor of Chateau Elan during an Epicurean Escape featuring deluxe overnight accommodations for the Inn at Chateau and a hands-on, interactive cooking class for two in our Culinary Studio.
Call to book at (678) 425-0900
Read More
Private Culinary Classes

m

i

s

e

e

n

p

l

a

c

e
From bachelorette parties to corporate team building, our private culinary classes are the perfect recipe for a fun and flavorful event. From prep to clean-up, we take care of all the details and planning.