North Georgia Cooking Classes
Equipped with top-tier Viking Range® appliances, our Culinary Studio is a beautiful 1,600 sq. ft. teaching kitchen located within the Chateau Elan Winery. Our skilled culinary team delights in sharing their passion for cooking in public classes and private culinary events with guests.
Close
Cooking Classes
The Day of Your Class | Please plan to arrive 15 minutes early. Wear comfortable clothes and shoes (preferably closed-toe). Chef reserves the right to substitute menu items/ingredients if necessary. Classes are subject to re-scheduling at Chef's discretion.
Registration | You must be 21 years or older to participate. Classes are approximately 2 to 3 hours long. $135 per person (plus taxes). Price is for cooking class only. To inquire about adding an overnight stay, please call Reservations.
Cancellation Policy & Liability | Prepayment by credit card is required to reserve a class space. Students who cancel their reservations 72 hours prior to the scheduled class will receive a full refund. No-shows and cancellations made less than 72 hours before the class will not receive a refund.
When booking a cooking class at the Château Élan Culinary Studio, participants must assume and accept that they will be participating in cooking activities where there is a natural element of risk of injury with kitchen appliances, equipment, knives, allergic reactions, and other participants in the class. When you confirm your cooking class you acknowledge this level of risk to yourself while participating in the activities at the Chateau Élan Culinary Studio.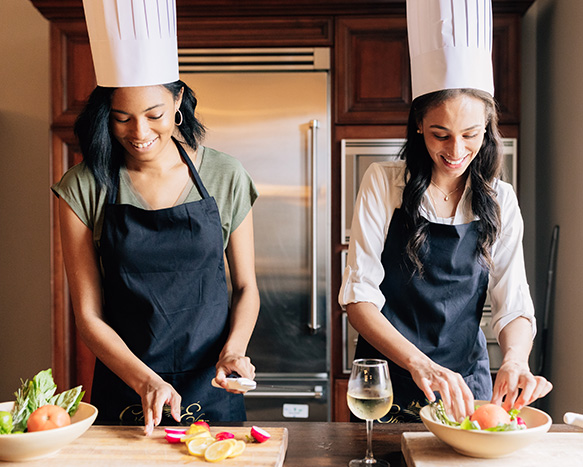 Cooking Classes
Cooking classes are tailored to an introductory skill level, however, even experienced foodies can enjoy the interaction with our professional chef in our Culinary Studio kitchen. Each class includes professional cooking instruction of a three-course meal, a chef's hat, a full serving of each dish, wine pairings chosen by our sommelier, and recipe booklet.
Read More
Monthly Menus
So Fresh and So Green
APRIL 2021
Spring is in the air which means lighter recipes in the kitchen. Join us for a month-long celebration of vibrant dishes like Spring Green Risotto, Jasmine Spring Rice, and Green Garlic Lamb Chops.
Saltwater Kitchen
May 2021
Join us as we dive into the flavorful world of seafood. Casting a wide net of culinary preparations, explore recipes like Salmon in Banana Leaf, Roasted Shrimp, and Pan Fried Trout.
Thrill of the Grill
June 2021
As the official start of summer, June is all about the sizzle. From Roasted Pork Tenderloin to Jerk Shrimp with Mango Salsa, this 4-week series will give you everything you need to spice up the season.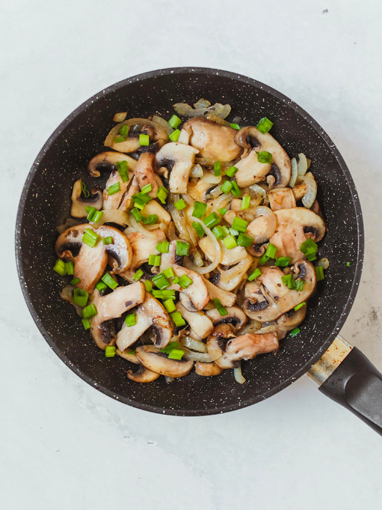 Close
Our Instructors
Tim Rowland- Chef du Cuisine, Tim Rowland, brings years of hotel experience and highly skilled training to the culinary department of Chateau Elan Winery and Resort. Raised in an Italian household and mastering recipes from his grandmother, Chef Rowland learned at a young age that good food has the power to bring love, joy, laughter, and lasting memories to families and strangers alike. Rowland currently leads the culinary department for Chateau Elan and oversees each outlet's menu from recipe development to execution.
Chad Hicks- Culinarian Chad Hicks has led our teaching kitchen since he joined Chateau Elan Winery and Resort in Summer 2019. Chef Hicks took an interest in cooking at a very young age and quickly turned his early passion into a full-time career. Previously an executive chef, Chef Hicks has now turned this skill and attention to teaching. He constantly looks forward to sharing his love for culinary education to our guests inside the Viking Culinary Studio. Chef Hicks teaches our evening classes Wednesday through Saturday.
Our Instructors
The courses in our Viking Culinary Studio are created by a team of talented culinarians, who work to achieve menus that are both seasonal and home-kitchen-approved. Led by Chef du Cuisine, Tim Rowland, our team is focused on making you feel as welcome in our teaching kitchen as you do at home in yours.
Read More
Private Culinary Classes

m

i

s

e

e

n

p

l

a

c

e
From bachelorette parties to corporate team building, our private culinary classes are the perfect recipe for a fun and flavorful event. From prep to clean-up, we take care of all the details and planning.