North Georgia Cooking Classes
Equipped with top-tier Viking Range® appliances, our Culinary Studio is a beautiful 1,600 sq. ft. teaching kitchen located within the Chateau Elan Winery. Our skilled culinary team delights in sharing their passion for cooking in public classes and private culinary events with guests.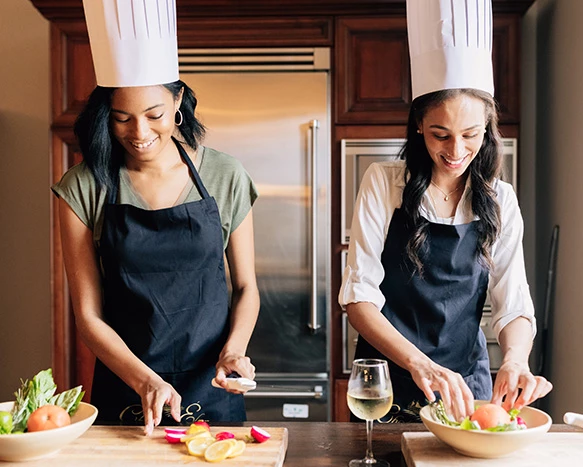 Cooking Classes
Cooking classes are tailored to an introductory skill level, however, even experienced foodies can enjoy the interaction with our professional chef in our Culinary Studio kitchen. Each class includes professional cooking instruction of a three-course meal, a chef's hat, a full serving of each dish, wine pairings chosen by our sommelier, and recipe booklet.
Read More
Monthly Menus
Looking for a fun way to celebrate Oktoberfest?
October 2023
Our expert chefs will teach you how to create authentic German cuisine such as Wurstalat and Lebkuchen to Knoephla and Reberdatschi! Join us this October as we embrace Oktoberfest.
Impress your guests this Thanksgiving by perfecting your favorite holiday dishes!
November 2023
Each week in November, attendees will learn how to create impressive Thanksgiving classics such as apple cider glazed salmon, creamy Tuscan shrimp with polenta, and even baked apples with homemade cinnamon ice cream.
Savor the flavors of winter
DECEMBER 2023
Savor the flavors of winter by perfecting the craft of warm dishes that will leave you
feeling cozy all season long. Learn to cook like a pro with winter dishes such as; filet mignon with gorgonzola, homemade chicken and dumplings, and New Orleans style bouillabaisse.
Our Instructors
The courses in our Viking Culinary Studio are created by a team of talented culinarians, who work to achieve menus that are both seasonal and home-kitchen-approved. Led by culinary masters, our team is focused on making you feel as welcome in our teaching kitchen as you do at home in yours.
Read More
Private Culinary Classes

m

i

s

e

e

n

p

l

a

c

e
From bachelorette parties to corporate team building, our private culinary classes are the perfect recipe for a fun and flavorful event. From prep to clean-up, we take care of all the details and planning.